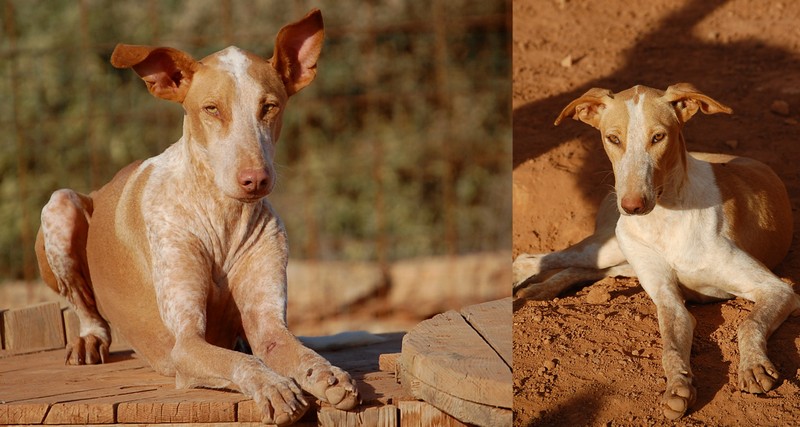 WELKOM
op de website van
Stichting Fuertedogs
. Een Nederlandse stichting rondom het opvangcentrum van Elke Kaaskooper op het Canarische eiland Fuerteventura. U vindt op deze website onder andere achtergrondinformatie en foto´s van alle honden die bij Elke op de ´finca´ verblijven. Daarnaast ook de mogelijkheden voor u om Elke te helpen bij haar missie:
a better doglife on Fuerteventura!
!
DE STICHTING
De Stichting Fuertedogs is een Nederlandse stichting die ten doel heeft de hondenopvang van Elke Kaaskooper op Fuerteventura te ondersteunen. Het gaat daarbij zowel om financiële als om praktische steun. We zijn een kleine, flexibele, onafhankelijke en transparante stichting die zich inzet voor de door Elke opgevangen honden.

We willen daarnaast graag informatie geven over de Podenco Canario, zoals zo vele jachthonden lief en vrolijk van aard. Dit ras geniet te weinig bekendheid in Nederland en buurlanden, waardoor de Podenco qua plaatsing achterloopt bij onze andere honden, waarvan een flink aantal al letterlijk 'een goede landing' in Nederland, België en Duitsland heeft kunnen maken. Via een informatieblokje hopen we de Podenco meer bekendheid te geven.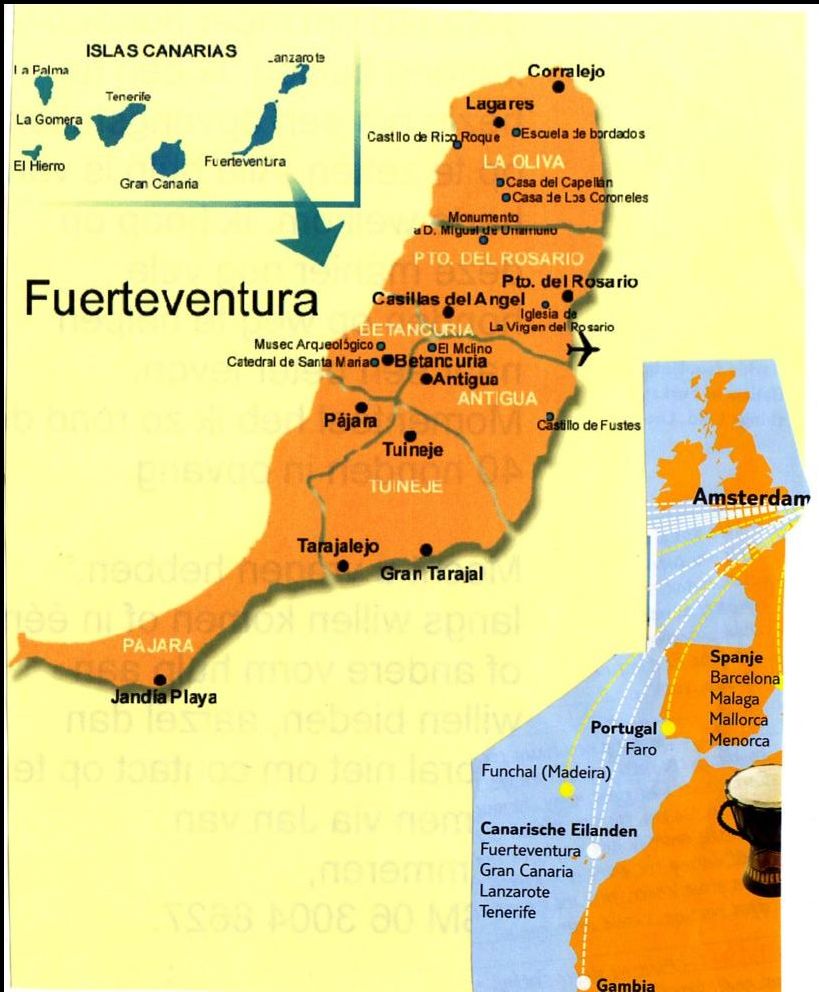 Honden in Spanje en dus ook op Fuerteventura leven vaak onder barre omstandigheden. Zonder de lokale ware dierenliefhebber te kort te willen doen, blijft de Spaanse mentaliteit t.o.v. dieren vaak zeer bedroevend. Vooral ook de Podenco Canario, de voor de Canarische Eilanden zo kenmerkende jachthond, heeft het zwaar te verduren. Slechts 12 zondagen per jaar mag er gejaagd worden. De rest van het jaar worden deze honden verwaarloosd, liggen ze te vegeteren aan te korte kettingen zonder bescherming tegen de felle Canarische zon, met te weinig of zelfs geen water en/of voer. Vaak genoeg worden ze dood aan de ketting gevonden. Overleven ze het wel tot de volgende jacht dan sterven ze vaak door gebrek aan voorbereiding en training of worden ze als de prestaties uitblijven zonder pardon afgeschoten, opgehangen of gewoon ergens achtergelaten om te verhongeren.

Maar ook andere hondenrassen hebben het moeilijk op Fuerteventura. De gemeenten hebben op Fuerteventura 4 zogenaamde dodingsstations. Alle honden die op straat dwalen worden door speciale hondenvangers van de gemeente gevangen en in zo'n centrum gestopt. Ook de mensen die hun hond niet meer willen, kunnen deze zo afgeven bij de dodingscentra. Afhankelijk van het aantal honden in de betreffende "perrera" worden de honden dan gewoonlijk na 10 tot 20 dagen zonder pardon afgemaakt, meestal op een dieronvriendelijke wijze.

WELCOME!

Welcome on the website of our foundation Fuertedogs. Fuertedogs is a Dutch foundation that has been set up to support the dog shelter initiated by Elke Kaaskooper on the Canary island Fuerteventura. On this website you will find background information and many photos of all the dogs that are staying with Elke on the 'finca'. You can also find information about the different ways you can help Elke to accomplish her mission: A better dog life on Fuerteventura!

THE FOUNDATION
The Fuertedogs Foundation is a Dutch foundation that has been set up to support the dog shelter initiated by Elke Kaaskooper on Fuerteventura. We want to support her both financially as well as practically. We are a small, flexible, independent and transparant foundation dedicated to helping the dogs rescued by Elke.
We would also like to provide information about the Podenco Canario, a sweet-natured, cheerful dog, as are many sporting dogs. This breed is still largely unknown in the Netherlands and neighboring countries. As a result, finding new homes for them is often more difficult than for our other dogs A large number of which literally made already a "save landing" in the Netherlands, Belgium and Germany. Through an information spot we hope to give more information about the Podenco.

WHY FUERTEVENTURA?
Dogs in Spain, and therefore also on Fuerteventura, often live under severe conditions. Without wanting to wrong local animal lovers, the Spanish mentality with regard to animals is often extremely distressing. The Podenco Canario, the sporting dog so characteristic of the Canary Islands, has a particular bad time of it. Hunting is only permitted on 12 Sundays annually and the rest of the year these dogs are neglected, vegetating on short chains without protection from the fierce sun, with little food or water, if any.

Often enough they are found dead on the chain. If they do survive until the next hunt, they often die from lack of preparation and training or, if they don't perform well enough are shot, strung up or simply left somewhere to starve to death with no mercy. But other breeds suffer great hardships on Fuerteventura, too. The municipalities of Fuerteventura have four so-called extermination centers. Any dog found roaming the streets is caught by special municipal dogcatchers and taken to one of these centers. People who no longer want their dog can also bring them here. Depending on the number of dogs in the "perrera" in question, the dogs are usually killed after about 10 to 20 days, for the most part in an animal-unfriendly manner.

WILKOMMEN!
Willkommen auf der Website unserer Verein Fuertedogs - eine niederländische Verrein, die das Tierheim von Elke Kaaskooper auf Fuertventura (Kanarische Inseln) unterstützt. Auf unserer Website finden sie u.a. Hintergrundinformationen zu den Hunden die derzeit bei Elke in der Finca wohnen. Ebenfalls finden Sie weitere Informationen, wie Sie uns bei der Erreichung unserer Ziele unterstützen können. A better doglife on Fuerteventura!
DER VEREIN
Der Verein Fuertedogs ist ein Niederländische Verein, die sich zum Ziel gesetzt hat, den Hundeauffang von Elke Kaaskooper sowohl finanziell als auch praktisch zu unterstützen. Wir sind eine kleine, flexibele, unabhängige, transparente Verein, die sich identifiziert mit den von Elke aufgenommenen Hunden. Auch möchten wir Informationen zu dem Podenco Canaria weitergeben. Diese in den Kanaren ansässige Rasse ist bisher wenig bekannt in den EU-Ländern, wodurch die Vermittlung sich schwieriger darstellt als für andere Hunde, die bereits nach Belgien, Deutschland und Holland vermittelt wurden. Wenn Sie "Podenco" anklicken finden Sie weitere Informationen zu dieser lieben und fröhlichen Rasse.
Hunde in Spanien, also auch auf Fuerteventura, leben oftmals unter sehr schlechten Bedingungen. Ohne den lokalen Tierfreunden zu nahe treten zu wollen, bleibt die spanische Mentalität zu Tieren sehr negativ. Vor allem hat es der Podenco, ein spanischer Jagdhund, sehr schwer. An nur 12 Sonntagen im Jahr darf gejagt werden. Die restliche Zeit werden diese Hunde vernachlässigt und vegetieren an zu kurzen Ketten und ohne Sonnenschutz in der Kanarischen Sonne mit sehr wenig oder ohne Wasser und Futter vor sich hin. Häufig findet man angekettetete tote Podencas. Sofern sie die Zeit bis zur nächsten Jagd doch überleben, sterben sie oft durch Mangel an vorbereitendem Training. Wenn der Hund die Jagdziele nicht erreicht, wird er rücksichtslos erschossen, aufgehängt, verbrannt oder einfach irgendwo ausgesetzt um elend zu verhungern.
Aber auch andere Hunderassen haben es nicht leicht auf Fuerteventura. Jede Gemeinde hat eine Tötungsstation, wo herumstreunende Hunde von speziell eingesetzten Hundefängern gefangen und dort abgegeben werden. Abhängig von der Anzahl der Hunde in der Perrera werden diese nach 10 bis 20 Tagen ohne pardon getötet, häufig auf eine tierunfreundliche Weise."